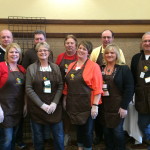 2018 WACO Convention
Mark your calendars!
March 14th – 18th, 2018
Holiday Inn & Convention Center, Stevens Point, Wisconsin
Join the Wisconsin Association of Campground Owners for a week of learning and fun! There will be classes, seminars, networking, and a 2-day tradeshow with over 170 booths! To view a projected schedule of events, click here. (Scheduled to Change).
Kids Kamp 2018 Schedule (Scheduled to Change)
This show is open only to registered campground owners. For details on how to register as a Campground Owner, click on 2018 Convention Campground Registration Form.
We would not have the largest campground convention in the nation if it wasn't for all of our Trade Members. Registration for Trade Member Convention booths is currently open! To register for the convention as a WACO Trade Member, click on Trade Member Convention 2018 Registration & Sponsorship. Can't make it to Convention, but want to become a WACO Trade Member and receive all the benefits? To get information on how to become a WACO Trade Member, visit the Trade Member tab.
NOTE: Solicitation by non-exhibiting suppliers is strictly prohibited.
Any questions, please contact the WACO office at 608-525-2327.
We look forward to seeing everyone this year in Stevens Point!