WACO Trade Member Advertising Opportunities
---
Advertise with WACO and you will put your products and services in front of almost 200 Wisconsin campgrounds. Take advantage of all the avenues WACO has to offer to advertise your company to a large audience of active campers and campground owners!!
Click here for the full list of Trade Member Advertising Opportunities available to you.
Face-to-Face
---
Annual Trade Show
WACO's annual Trade Show at their convention in Stevens Point, WI is the largest camping trade show in the country. Due to it being so large, it is very popular with campground owners who are ready to buy because they know they can see and compare a large number of companies at once! For more information and how to register, please visit the Trade Member Convention 2023 Registration page.
Print
---
Wisconsin Campgrounds Directory
Each year, 315,000 of our campground directories are distributed. That is a whole lot of people who will see your message in the ad you place! Directory ads are available in many sizes including; Full page, 3/4 page, 2/3 page, 1/2 page, 1/3 page, 1/4 page, 1/8 page. See below for pricing info.
WACO Newsletter
Sent out monthly via email, you can advertise in this newsletter sent to all WACO members in a variety of sizes, including: Business card, double business card, 1/4 page, 1/2 page, full page. We also offer a 20% discount for 6 months and 30% consecutive discount for 12 months. Please call the WACO office at (608) 525-2327 for more information on advertising in the newsletter.
Online
---
There are a variety of choices for advertising on WACO's website. Campground owners check our list of vendors and notice their ads when looking for specific items or services for their campgrounds.
Banner Ads:

Located on top of page.

Side Ads:

Located on the right hand side of the page.
Pricing and Details
---
To look at pricing of the WACO advertising opportunities, please click here for the 2023 Trade Member Advertising Form to download a PDF version. If you are having trouble opening the file, please fill out the form below and we will email you a copy of our advertising opportunities form. You can see what is available, how much it will cost, and what benefits you will receive.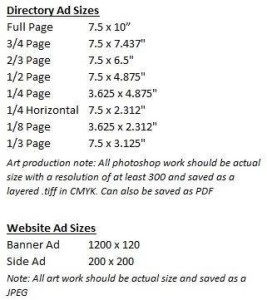 ---
For more information on our Trade Member advertising opportunities, please fill out the form below!