WACO Member Advertising Opportunities
---
Take a look at all the avenues WACO has to offer you as a member to advertise your campground to a large audience of active campers! Contact us today with any questions or to get started on any of the advertising programs!
Full List of Advertising Opportunities
New! Augmented Reality Directory Listing!
---
Capture Campers interest with a video ad in the 2020 WACO Camping Directory! Turn your printed ad into a video commercial that plays inside the WACO Camping Directory!
You can also choose to add a "book now" button to your listing that takes campers directly to your website!
DEADLINE IS NOVEMBER 18TH TO MAKE IT INTO 2020 DIRECTORY!
How it works: Your ad listing in the directory will include a QR code and campers will access the augmented reality camera by scanning that QR code. Augmented reality is supported on 3G and newer iPhones and most Andriod devices.
To participate, please download the form below and return to the WACO office by Monday November 18th!
2019 Augmented Reality Advertising Agreement
*Parks must provide the video. Maximum size is 10MB. CampersAPP can assist with sizing the clips. Videos should be no longer than 3 minutes.
Printing
---
Wisconsin Campgrounds Directory
315,000 of our campground directories are distributed each year. That is a whole lot of people who will see your message in the ad you place!
Directory Ad (Full page, 3/4 page, 2/3 page, 1/2 page, 1/3 page, 1/4 page, 1/8 page)
Coupon on Map Page
Cabin Rental Listing
ATV Listing
Additional Listing
Canoe/Kayak/Fishing Listing
For more information, click here for advertising opportunities.
Literature Distribution
When WACO does camping, RV, and outdoor shows in the following cities, they will distribute your brochures if you are an advertiser.
| | |
| --- | --- |
| Milwaukee Super Show | Wisconsin Center | January 10 – 12, 2020 |
| Greater Chicago RV Show | Renaissance Schaumburg Convention Center Hotel | January 17 – 19, 2020 |
| WBAY Green Bay RV Show | Resch Center | January 23 – 26, 2020 |
| Madison Camper & RV Show and Sale | Alliant Energy Center | January 31 – February 2, 2020 |
| MSP RV Vacation & Camping Show | Minneapolis Convention Center | February 6 – 9, 2020 |
| La Crosse RV Show | La Crosse Center | Febuary 6 – 9, 2020 |
| Rochester RV & Camping Show | Mayo Civic Center | February 14 – 16, 2020 |
| Milwaukee RV Show | Wisconsin Exposition Center | February 27 – March 1, 2020 |
| RV & Boat Show Main Event | EAA Grounds, Oshkosh | February 28 – March 1, 2020 |
| Wausau Central Wisconsin RV & Camping Show | Central Wisconsin Convention & Expo Center | March 13 – 15, 2020 |
| Rockford RV Camping & Travel Show | Indoor Sports Center | March 20 – 22, 2020 |
| Wisconsin Sport Show | Chippewa Valley Expo Center, Eau Claire | March 20 – 22, 2020 |
Piggy Back Program
Your campground brochure is sent out with WACO directories. To join this program, please fill out the "Piggy Back Program" portion of the advertising form listed above.
30,000 Printing Program
Join this program to have 30,000 of your flyers printed for only $650! By working as a group, WACO gets an amazing deal for printing. The pricing is for an 8.5″ x 11″ double-sided, colored, glossy flyer. To sign up, please fill out the "Printing Program" portion of the advertising form listed above.
NEW 5k Printing Program
Join this program to have 5,000 of your flyers printed on double-sided glossy paper and printed on both sides for only $260!
Online
---
Wisconsin Association of Campground Owners Website
There are a variety of choices for advertising on WACO's website. With 20,000+ visitors a month, an ad here puts your name and info directly in front of people who are actively looking for a campground to visit.
Website Listing: Free with your WACO Membership (includes up to four photos and description of campground, sites, and amenities)
Rotating Banner Ads: Located on top and bottom of the page.
Rotating Side Ads: Located on the right-hand side of the page.
Advertise Your Events: Located in the "Events" tab.
Coupon Ad: Located in the "Coupons" tab.
Facebook Ad: Mention on our Facebook page.
Wisconsin Camping Rentals
NEW in 2016! WACO has introduced a brand new rental website for the WACO campgrounds that offer cabins and rentals. Flip through the new site by visiting www.wisconsincampingrentals.com! Want to have your cabins and rentals featured? Advertising options are listed below as well as in the Advertising Opportunities found above.
Includes enhanced listing on the NEW Wisconsin Camping Rental website, website top/bottom banner ad, a four-sided brochure specifically for the Wisconsin Camping Rental Units, and distribution of 30,000 of the Camping Rental brochures (RV shows, piggyback program, special promos, etc.). Enhanced website listing includes up to four photos, as well as a breakdown of rental units (individual slideshow per each unit). Each slideshow can contain up to 4 photos. Please pre-label the photos by the name of the rental units.
Pricing and Details
---
To look at the pricing of the WACO advertising opportunities, click here for the advertising form to download a PDF version. If you are having trouble opening the file, please fill out the form below and we will email you a copy of our advertising sheet. You can see what is available, how much it will cost, and what benefits you will receive.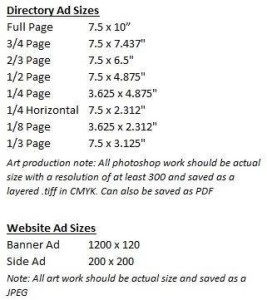 Fill out the form below for more information.