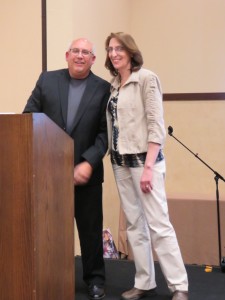 The Wisconsin Association of Campground Owners hosted its 53rd annual convention March 16 – 20, 2016 at the Holiday Inn and Convention Center in Stevens Point, Wisconsin. The week was full of educational seminars, the largest campground trade show in the country, a five-day kids camp, special guests, fun events and much more.
The highlight of the week was honoring a very special campground that is a longstanding member of the association and inducting them into the WACO Hall of Fame.
Buffalo Lake Camping Resort, located in Montello, Wisconsin, has been a family owned and operated resort for more than 20 years. Resort hosts (and new grandparents!) Linda and Gary Doudna were ecstatic to receive the award. As they stood in front of all association members in attendance and spoke about how they were first introduced to the campground industry, the Montello community and their family, the entire room could feel the pride and excitement the couple has about their business.
Lori Severson, the association's Executive Director, presented the award to Linda and Gary on stage. "The WACO organization really couldn't have chosen a better recipient of the Hall of Fame award this year. Linda and Gary are a pleasure to work with in this industry. Their knowledge and expertise in the business really is second to none." said Severson. "Linda, Gary and their entire family are respected members of this association and we sincerely thank them for all they have done and continue to do for our organization and the Wisconsin camping industry as a whole."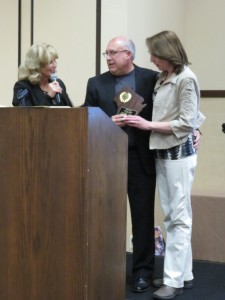 Gilbert Brown, former Green Bay Packer and Super Bowl Champion, of The Gilbert Brown Foundation partners with the WACO organization and regularly attends the WACO Convention. "I've been working with The Wisconsin Association of Campground Owners and helping out at their annual convention for years now and it's always a great time." said Brown. "These campground owners are some of the best people I've ever met. They love their business and care about providing the best experience possible to families that visit their parks each year. Linda and Gary are no exception to that. Listening to them talk about their campground and their family really represented what it's all about for these campground owners. They love their business, this industry and the people who make it all worth it."
Buffalo Lake Camping Resort is the perfect destination for anyone anxious to experience all that Marquette County has to offer. Centrally located in Wisconsin, Buffalo Lake Camping Resort is the ideal place for relaxation and excitement of all varieties. Outdoor enthusiasts will love the many recreational opportunities that abound. Nearby lakes, rivers and parks provide fishing, paddling, ATV and cycling opportunities sure to please. Their sparkling solar heated pool lets guests splash and stay cool, but for those who want more wet and wild fun, they are just a short drive from the "Waterpark Capital of the World", Wisconsin Dells. For more, visit them at www.buffalolakecamping.com.
---
A big thank you to all of the campground members, out of state campgrounds and trade members who attended the 2016 WACO Convention in Stevens Point! We had such a great time, as always, seeing our WACO family! We hope everyone had an amazing week filled with fun, education and new experiences! Check out this great convention recap video from
Save the date for the 2017 WACO Convention
in Stevens Point, WI! March 15-19, 2017