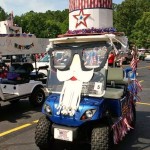 Looking for fun things to do while camping this weekend? Maybe you're looking for a place to camp? (Last minute, we get how it works!) WACO has you covered with recipes, kids activities, outfit ideas, even how to decorate your camper or golf cart!
If you are looking for a last minute place to stay this weekend, visit our Events section for a full listing on WACO campgrounds with availability. We recommend contacting the campgrounds individually for more information and all reservations.
WACO has an awesome Pinterest page with tons of ideas for camping. The real fun is the 4th of July section though. Check it out! We promise you will find ideas for this weekend or future camping trips. There is plenty of food recipes that you can make while camping as well as kids activities to keep them busy all weekend! Don't worry though, we also found some fun adult drinks and games that will ensure a weekend to remember (or not remember).
Regardless of your camping plans this weekend, WACO wants to wish you a family and friends filled weekend as well as a safe weekend! Don't forget to be careful with fireworks and be aware of where you are lighting them. Tag WACO in your 4th of July social media posts to be featured on one of our sites! Have a great weekend campers!
Facebook: WACO – Wisconsin Association of Campground Owners
Twitter: @wicampgrounds
Instagram: @wicampgrounds